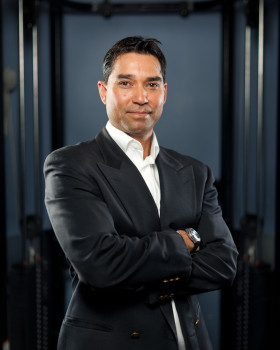 Owner of CPJ Fitness, he is recognized as one of San Diego's premier fitness trainers.  Coach PJ's dedication to his clients is unparalleled.  There are very few fitness trainers who understand the importance of the "personal touch", which comes so naturally for Coach PJ.  He has the innate ability to tap into the human psyche.  This gift allows him to keep his clients motivated and inspired to achieve their health goals.
Coach PJ is a true innovator when it comes to program development.  He takes great pride in the understanding of bio mechanics and human function.  The variety of his workouts are a true testament to his knowledge and ability to facilitate functional yet challenging routines.  Each encounter with Coach PJ is unpredictable and is designed to take you out of your comfort zone, but you finish your routine with a sense of accomplishment and craving more.
Coach PJ has a background  in Kinesiology from San Diego State University.  He spent a year at a physical therapy clinic in La Jolla, learning post-surgery rehab protocols.  His passion to learn more about the human body lead to his massage therapy certification, obtained at IPSB, where he gained a greater understanding of the physical, mental and spiritual relationship of the body.  Later, he pursued his personal training certification at the Cooper's Institute in Texas.